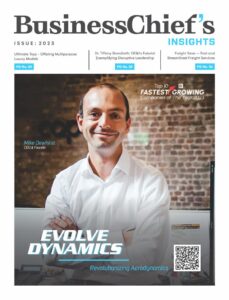 Evolve Dynamics was created to find solutions to tough, real-life problems using UAV technology. Evolve continues to contribute to a better future by following a more carbon-neutral, safe and secure environment, thus delivering life-saving equipment and providing complete value for money.
Evolve Dynamics – Foundation
As an engineer and entrepreneur, Mike Dewhirst realized that there was a huge gap in the market to provide high capability UAVs to  police forces and other emergency services. He had been experimenting with the performance of off-the-shelf systems, and quickly came to understand that there was a requirement for  extreme weather-friendly aircraft with significant flight time. His new UAV designs led to the creation of a UAV platform which not only operates reliably in different weather extremes and terrain, but also enables 60-second launch time and 1-hour long flight duration. Dewhirst's main aim was to deliver advanced UAV technology but at a low cost, given public safety departments are usually restricted by a limited budget.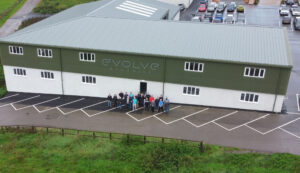 Evolve came to the forefront of news when it donated several systems to resistance fighters in Ukraine, shortly after Russian invasion and occupation of Crimea. Today, Evolve has grown steadily from a small garage-based workshop to a large  engineering company with a purpose-built 12,000 sq. ft. high-tech research and development laboratory in Surrey .
Evolve Dynamics – Refined UAV Technology
The team of expert engineers, designers and technicians at Evolve Dynamics follow Richard Feinmann's "First Principles" concept. It involves applying extreme critical thinking to conventional, basic technological concepts. Under this, the team of experts at Evolve carefully and meticulously selects and tests every fuselage option, battery type, propulsion system, and other components, such as connectors, cables, etc. It is the only way to ensure that the end-product has the best-in-class parts and functions optimally. Additionally, the expert designers and engineers at Evolve always take a holistic approach to design and develop every product with the end-user's experience in mind.
The incredibly efficient design is evident when you store the system into a man-portable bag and all the way to the take-off point and, when operating in the field,transmitting and receiving data from other systems and teams. All this ensures that the end-product delivers optimal return on investment and saves crucial time and resources. At Evolve, nothing is designed in isolation and user-feedback and experience are among the key elements that are taken into consideration before any designing is done.
Evolve Dynamics – Ingrained Excellence
Evolve Dynamics distinguishes itself from competitors in multiple ways. The company is extremely agile – its development process is designed to quickly adapt to changes and new trends in UAV technology, but without compromising on quality.
Evolve has spent years recruiting the best skilled and experienced talent into the team and is proud to have one of the most effective and efficient teams in the industry.
Evolve also ensures smooth and streamlined scalability, needed for large volume productions, by carefully selecting partners and suppliers. These are extensions of Evolve and include some of the most renowned CNC machine shops to cable harness manufacturers, PCB foundries, sub assembly labs and many more.
Evolve Dynamics has always prioritized customer experience and requirements to ensure high quality products  as well as helping make the world a safer place. Though profit margins are also important to Evolve, they are on a lower priority than customer satisfaction.
Evolve Dynamics – ISTAR (Intelligence, Surveillance, Target Acquisition and Reconnaissance)
An ISTAR platform is designed to provide exceptional situational awareness from a high vantage point, which is expected of any airborne surveillance system. In case of a disaster, such as a tsunami, an earthquake or a war, a high
vantage point is necessary to get a better understanding of the situation. It involves finding a better route to an injured victim, understanding dangerous terrain and finding casualties.
This high-tech UAV system is also useful to find an adversary quickly and safely. It helps to minimize and even completely prevent friendly casualties in war-torn regions.
Additionally, a system such as Sky Mantis can perform in any weather, be it extremely high winds, rain, snow or sand, making it perfect for natural disaster aid. It has an extensive variety of sensors on-board and can effectively find whatever needs to be found with more effectiveness, as compared to other similar products, which have fewer sensors and can miss critical detail.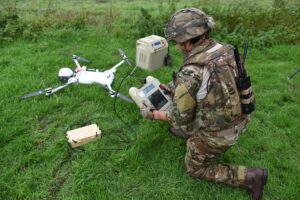 Missing any crucial detail at a high- speed flight can mean the difference between life and death for an injured victim, during war or a natural disaster.
Evolve Dynamics – Commercializing UAV Evolution
There is a fast-growing demand for UAVs, RPAS and UAS, in different areas and industries worldwide.
Any project that requires extensive inspection and monitoring, such as laying train tracks, electric power-lines or roads, to ensure efficiency and precision, needs a UAV. When this task is done aerially it becomes incredibly efficient and effective. This is one of the main reasons that a growing number of emergency responders (police forces, emergency rescue services, firefighters, etc.) are using drones, which is helping to save more lives than ever.
Additionally, drones are also being increasingly used in energy sectors, including wind, solar, tidal, gas and oil. These drones are perfectly suited to ensuring constant monitoring of the extensive infrastructure required to run energy sector industries thanks to the wide "weather operational envelope". Evolve's drones effectively help to detect problems in energy infrastructures, such as peeling paint on wind turbines, dirty solar panels, gas pipe leaks, etc. It makes the inspection and detection process incredibly easy, safe, efficient and affordable.
Evolve Dynamics – Challenges in UAV Evolution
Initially, with no established reputation and with a new product in the market, it was challenging for Evolve to establish itself in such a new area, particularly as there was a significant lack of customers and finance. With perseverance and consistent performance Evolve Dynamics steadily built very strong customer relationships, raised funding and step-by-step achieved its current renowned status.
On the road to success, Evolve also faced numerous challenges, which included putting its new designs through extremely rigorous flight safety testing to ensure every aircraft operates flawlessly in every scenario.  There were many crashes and failures to fix, manufacturing and design faults to iron out – which are inevitable with a complex product such as a drone. Besides this, due to the nature of the business and investor cautiousness, the company had to navigate funding challenges, tight cash flow and the obstacles of finding "A player" staff. Still, the perseverance of the team and founder Dewhirst helped overcome these challenges using innovative initiatives. The key to the success of Evolve is that the team believed in the eventual success and trusted each other completely, along with the company's mission and vision. The meaningful and rewarding outcome is what keeps Evolve on the path to success, despite numerous small and large challenges and obstacles in the way.
Evolve Dynamics – Finding Future Solutions
Evolve Dynamics is currently working on numerous new solutions and products that can improve the usefulness of the tools it provides. Its main goals are to focus on increasing autonomy and intelligence of its products, allowing operators to focus more on their core job and not worry about deploying and managing the aircraft once it is airborne. Instead, the new technology will allow the aircraft to achieve significant autonomy in terms of flight control and flight path. With this, the operator does not have to monitor the streams of data that the UAV sensors send constantly to the controller and is only alerted when needed. Besides this, the company is also working to develop automatic deployment technology, which will allow UAVs to take-off and land from an enclosure, and developing smaller but more advanced and high-tech drones. It is also focused on increasing flight time, horizontal range and adding more sophisticated sensors while ensuring that the overall price of the product remains in the affordable range.
Evolve Dynamics was born to find solutions to hard, real world problems – through UAV technology. They continue to do so – now and going forward.
Evolve Dynamics is a leader in UAV technology. The company has been engaged in designing and developing increasingly advanced drones, which are extensively helpful in emergency rescue situations, as well as in combat. These advanced UAVs are designed to perform with optimal efficiency, thus allowing users to find increasingly new and innovative uses for the technology.
Read other Interviews: Top 10 Fastest Growing Companies Of The Year 2023