Businesses can use data to measure several instances of an element or variable. However, a single dataset can only provide a finite amount of data and be used for many problems. Parallelly, there is a huge ton of incorrect data brought on by either a lack of knowledge regarding the gathering and processing of data or just human mistakes. The benefit of using open source geospatial data is that anyone can review it for errors and omissions. The issue is that this process is costly and time-consuming; businesses frequently skip it, especially when they have a short deadline and must insight right away. But the results of making significant judgments based on incorrect information may be far more expensive.
The Digital Transformation philosophy seeks to create prospective businesses that were never conceivable utilizing traditional methods and accessible technology. With time savings of tens or hundreds of times compared to conventional construction processes, it represents a paradigm shift and revolution in values.
Aim towards G-spatial Data Science Company
As a spin-off from the IT industry, Orbital Net was established by Mr.Yuji Kobayashi with funding from a nearby surveying and design firm. The Company performed outsourcing work in the initial stages. Later involved consulting for developing and introducing open source GIS, various analyses using artificial intelligence (AI), feature generation, and weight model creation of 3D data and web service. Most of the Company's work includes complex, novel topics that other businesses do not manage as they meet the obstacles and their staff advance. 
Solutions can take many different shapes, from specialized systems that combine multiple pieces of software to the customization of particular software based on customer requirements. Orbital Net's for-profit business support system, FOSS4G (Free Open Source Software for GeoSpatial), is built on open source software for geospatial data. The Company mostly focused on local government operations in the past, but more lately, they have created more all-purpose goods and services. These are meant to be purchased online.
The Company provides more flexible and customer-budget-oriented solutions than its commercial partners. These solutions consider the rising need for geospatial Open Source software in recent years. Lower license costs for initial deployment and scaling up benefit the customer, while lower software acquisition costs benefit the Company.
Using wide-area aerial and satellite photos as the primary source, AI techniques like object identification and segmentation are used to identify target geographic objects and store their location as geospatial information in the form of points and polygons. The primary emphasis has been on map components, including streets and buildings, parking lots, solar panels on buildings, and automobiles. The system's unmatched processing speed is a feature; AI can now complete tasks that would have previously taken a person a day to complete. Therefore, it focuses on massive decoding tasks, which was humanly impossible.
Orbital Net has created and owns inference engines like Ortho Enlarger for super-resolution of aerial and satellite data, Geo Detector for geographic feature shape tracing, and Geo Detector for geographic feature identification. These are not actively marketed to customers now; instead, they are used internally as production tools for deciphering aerial and satellite images. 
Rapid Transformational Adaptation
If the basic GIS functions do not satisfy the needs, the Company either modifies the functions or develops them from scratch. Suppose the work being done by the customer is routine; the Orbital Net team can also adapt and automate the GIS to fit the customer's processes while only employing necessary functions. Depending on the size of the project, Systematization is accomplished in combination with databases and other tools. If the system is large in scope, the Company will also take its accessibility into account and recommend making good use of outside resources like online services.
The Company was compelled to run its business during COVID while taking on additional risks as there was no plan to bring in new customers, launch fundraising initiatives, or produce its products. Even though there was no way to draw clients, the Company reopened its doors and diligently worked on product development.
Case Study
Orbital Net tested its AI technology in the construction industry. The rotation angle of each nut is marked with magic ink on building construction sites during the tightening inspection of high-strength bolts; the rotation angle of the marking is measured visually after tightening; the average value is calculated, and a pass/fail decision is made manually. This manual job is not only time-consuming, but it also lacks precision as optical measurements and manual computations are used, and it is difficult to keep track of pass/fail determinations. A web system that uses AI to recognize marking positions, automatically compute angles and make pass/fail judgments to cut the time needed for inspections to 1/10 or less. The Orbital Net team launched this web system on trial at a client site. Due to this, client members retrieved Unit inspection results (from several hundred) in a few seconds by transmitting the collected images to the online service.
Orbital Net Vast Future Plans
In terms of hiring, the Company is searching for individuals who can be the growth engine of the business and are unique with expertise in geospatial and AI analysis. Large-scale hiring has yet to occur as the business is still in its infancy.
The Company is in the process of seeing "Geospatial & AI" innovation take shape and efforts to shift paradigms. The CEO says, "There will be more new solutions, but business models will shift." While the present economic model for using AI in outsourced production is in "Phase 1," "Phase 2," and "Phase 3" are coming up. The Company's advantage will be its capacity to offer AI that has firsthand knowledge of its production process.
In Phase 2, Orbital Net will compete with other companies' tools when the number of businesses using contract manufacturing based on AI comparable to theirs starts to rise, losing the advantage in the traditional market. Since the market introduction of AI necessitates a PoC, the team will use their expertise in AI tools to develop AI products that are specialized in each production task and move from the production business using AI tools to the AI tool sales business. The Company's strength is that it can offer AI that has directly experienced the production processes as they are.
Later in Phase 3, the Company plans to raise money from a third party as there will be a need for large-scale development investment. Since AI requires a specialized environment, such as GPUs, as opposed to general systems, the issue in marketing AI tools is creating an environment that users can accept confidently. Yuji says, "If the provider generalizes the product, the barrier for users to introduce the product will be higher." As a result, the Company wants to implement the same features of the product as a web service, remove obstacles to creating a user-friendly environment, and draw in additional consumers.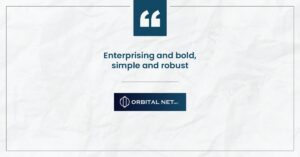 Company Name: Orbital Net Inc.
Founding Year: 2018
Office Locations: Nagoya city, Aichi, Japan
Official Website of the Company: https://www.orbitalnet.jp
Name of the Featured Leader: Yuji Kobayashi
Designation of the Leader: President & CEO